*Testimonials presented apply only to the individuals depicted, cannot be guaranteed, and should not be considered typical.
A True healer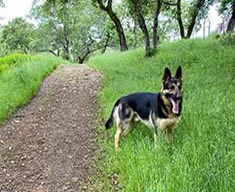 I've worked with many therapists & body workers over many decades for myself & my dogs. I refer to many of them as mechanics and relatively few as true healers. Dr. Gordacan is a true healer!
She has been treating my very athletic 4 1/2 year old 116 lb. male German Shepherd for a recent injury that resulted in a rear left leg gimp & weakness in addition to pain & inflammation along his back & hind quarters. He's made remarkable improvement in just 3 sessions.
I heartily recommend Dr. Gordacan for her capabilities in evaluating and providing effective, healing treatments.
I saw significant progress.
My 1 year old old cat Rocky Road had a major stroke which paralyzed his rear leg and sent him into a lethargic sad state. Once he started regaining function 1 month later, he was limping all funny so I decided to look into chiropractic adjustments. After talking with Dr. Gordacan, we met the next day and I did not bother to interview anyone else. Rocky Road was in fabulous hands! He immediately responded extremely well to the first adjustment. Literally had a new spring in his step which brought tears to my eyes. Within days he was almost back to his normal, happy self. He went from a slow limp to bouncing around and chasing his sister. After every adjustment, I saw significant progress. Look no further for someone who deeply cares about animals, and understands their intricacies.
I came back for more!
At my first appointment with Dr. Kimberly Gordacan I was physically and emotionally strafed. By the time I left, I felt so much better on both levels. She gave me focused, caring attention I needed as well as the expert adjustments. So, naturally , I came back for more! A visit with Dr. Gordacan is like seeing your old-time family doctor, the one who made house calls, sat on the side of your bed and really cared about you. She's genuinely talented and experienced healer, deeply empathetic as well as a skilled practitioner. I feel so taken care of and my body responds well to everything she does. Thanks, Dr. Gordacan!
Knew Exactly what To Do
Dr. Gordacan helped my dachshund, Oliver when after high dose prednisone (steroids) and narcotics did not relieve the back pain of my dachshund, I hesitantly called Dr. Gordacan after the vet gave me her business card. Oliver had been in noticable pain for weeks. An X-ray confirmed a problem with the discs in his back. Right after his first adjustment he perked up and returned to his happy, playful self to my amazement. I am so happy Dr. Gordacan knew exactly what to do and saved him from a miserable life of pain!
REALLY and TRULY do care!
I learn something new from you every time I see you. Some doctors hoard their information and some are boastful. But you are always helpful and informative. I've always felt that you REALLY and TRULY do care. Thank you for that.
Beyond The Call!
Thank you so much- beyond the call of Duty